MONTEREY COUNTY BRANCH NAACP MONTHLY MEETINGS
All meetings cancelled until further notice

**IMPORTANT NOTICE FROM THE NAACP
The Official Facebook page for the Monterey County Branch is named:
NAACP MONTEREY COUNTY BRANCH #1049.
Another Facebook page that is using the name MONTEREY COUNTY BRANCH NAACP has posted false information about our President Josh Stewart. Per NAACP Western Coastal Director Dan Daniels, Josh Stewart and the Monterey County Branch are not under investigation, and Mr. Stewart has not been suspended. He is the current active President of NAACP Monterey Branch #1049
---
Mail by April 15 to the Monterey County Branch NAACP, POB 782, Seaside, CA 93955.
Martin Luther King Birthday Celebration 2020
NAACP 111th Annual National Convention Boston July 25-29, 2020
Boston, MA will host the NAACP 111th Annual National Convention. Boston is home to one of the association's earliest conferences in 1911 and the Boston Branch remains one of the strongest branches in the nation.
The NAACP will bring together elected officials, key entertainers, authors, athletes and young leaders for a number of workshops, discussions and events to promote solutions to issues of police brutality, racism, voter suppression, partisan gerrymandering and sexual violence and health in the Black community.
Other highlights will include the NAACP ACT-SO (Academic, Cultural, Technical and Scientific Olympics) final competition and awards, Freedom Fund Banquet, health pavilion, a retail expo, and a diversity career fair.
Political Action Forum - January 11, 2020
MARK YOUR CALENDAR - 2020 IS GOING TO BE AN IMPORTANT YEAR!
Listen and subscribe to our podcast from your mobile device:  Via Apple Podcasts | Via RadioPublic | Via Stitcher
Four hundred years ago, in August 1619, a ship carrying more than 20 enslaved Africans arrived in the British colony of Virginia. No aspect of the country that would be formed here has been untouched by the 250 years of slavery that followed.
"1619," a New York Times audio series hosted by Nikole Hannah-Jones, examines the long shadow of that fateful moment. Today, instead of our usual show, we present Episode 1: "The Fight for a True Democracy."
This episode includes scenes of graphic violence.
[For an exclusive look at how the biggest stories on "The Daily" podcast come together, subscribe to our newsletter. Read the latest edition here.]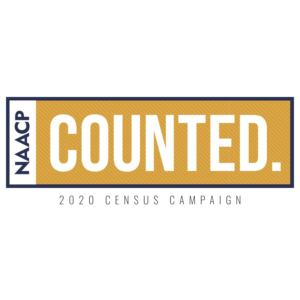 OUR VOTE IS OUR POWER, USE IT!
Per California/Hawaii NAACP President Alice A. Huffman, PhD, "We must face the local agenda in California. One of the issues we cannot drop the ball on is redistricting. We must get everyone counted to ensure the census count is real, and redistricting is based on actual numbers. We also have Congressional and State races we must tend to, for the November elections are very important.
INCREASING OPPORTUNITIES THROUGH CENSUS 2020
With the 2020 Census less than a year away, many concerned government officials, elected leaders, researchers, foundations and community organizations are preparing for the decennial 2020 Census. Communities of color have historically been undercounted in the United States of America. The Three-Fifths Compromise of the Constitutional Convention in 1787 counted enslaved Black people as three-fifths of a person in apportioning congressional districts for the U.S. House of Representatives. Since then, the Census has severely undercounted the Black population, to great disadvantage in representation, resources and power.
 HOW CAN YOU HELP?
If you are looking for temporary and/or part-time work, the Census Bureau is recruiting and hiring thousands of temporary workers for the 2020 Census.
Apply online at: www.2020census.gov/jobs